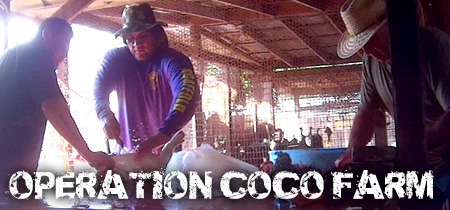 In September 2014, ARM undercover investigators began long range surveillance of a property located in unincorporated Miami-Dade County, Florida, just minutes from a busy shopping centre –  Dolphin Mall. When ARM investigators first passed by this property labeled "Coco Farm", advertised animal sales were noted and suspicions of illegal animal slaughter arose. ARM then began its six month long investigation of the targeted property.
The operation required ARM to investigate deep undercover and to document and expose the extent of extreme animal cruelty crimes occurring regularly at this property. Footage taken from undercover cameras captured by ARM, confirmed that illegal activity and brutal mistreatment upon animals was being continually conducted by farm workers.
ARM undercover operatives entered the targeted property on multiple occasions beginning on Christmas Eve 2014 which is also known in the latin community as 'Noche Buena'. On this highly celebrated hispanic holiday, a countless number animals are purchased and slaughtered for human consumption. This in turn, generates a large profit for operations like "Coco Farm" and brings a vast number of customers to purchase meat.
ARM investigators documented workers demonstrating extreme acts of animal cruelty including; illegal and inhumane handling, butchering and sales of animals for human consumption. Animals upon 'Coco Farm',  were also being traded on the black market for Black Magic and Voodoo sacrifice.
During the series of investigations, ARM undercover operatives witnessed pigs being stabbed in the heart, left to bleed out, then butchered while still conscious. Also documented, were multiple goats being packed into 9 1/2 inch high chicken crates for transport to the kill area. The goats were then hung upside down by their hind legs, throats slashed, and their heads twisted off completely, all while still alive and breathing.
Some goats were skinned alive by farm workers before being butchered to death.
Also documented by ARM investigators, was customers who carried their children as they watched the animal slaughter take place.
In addition to the magnitude of illegal inhumane animal handling and slaughter carried out by farm workers, the animals on this farm were left without proper care, food, water and shelter. They were kept in small pens and cages with dying or already dead animals and surrounded by rotting carcasses. Many of these animals were riddled with disease, sores and were gravely ill. Aside the cruelty and neglect, the animals were unsuitable for human consumption. This however did not stop farm workers from selling these animals for this exact purpose.
Following ARM's independent undercover investigations, evidence of illegal activity on "Coco Farm" was presented to the Miami-Dade State Attorney's Office and Miami-Dade Organized Crime Unit. Joint forces resulted in one of the largest raids ARM has completed in its existence. The property that had been illegally operated on for decades and survived its crimes because a lack of proper enforcement, is now successfully shut down.
With the unbelievable efforts made by the State Attorneys office, Katherine Rundle and Organized Crime Units, animal cruelty crimes are being treated with the utmost severity and thousands of animals who were destined to a life of torture and suffering are now free from abuse and slaughter.
Details of the arrests were executed during a large scale raid on the morning of Thursday, 12th March, 2015 where almost 10,000 animals were recovered. These arrests were served upon the 'evil mastermind' and owner of the property "Gregorio Santa Ana" and 3 of his butcherers Jose, Henry, and Rubin Rodriguez.
Updates of this investigation will continue to be highlighted on ARM's website.
Coco Farm Raid and Rescue